Who's Who in The Manwood Singers
Conductor: Martyn Jordan
Martyn began his musical career as Head Chorister at Wimborne Minster in Dorset. At 16 he joined the Royal Marines Band Service. During a 24 year career he attained rank of Bandmaster and gained the Licentiate Diploma of the Royal Academy of Music. He also composed and arranged many pieces, one performed live at the Royal Albert Hall.
Since leaving the Royal Marines Martyn enjoys a wide range of musical activities, playing clarinet and viola in small ensembles, singing in various choirs and directing The Manwood Singers as conductor.
Accompanist: Stefan Catto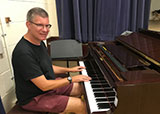 Stefan graduated from Christ Church College, Canterbury in 1994, where he studied the piano with Keith Cole and Ronald Smith. Since graduating he has gained a PGCE in Secondary Music, and is also a freelance musician, working with a variety of soloists and groups throughout the South-East in a wide range of styles. He has acted as répetiteur at the University of Kent at Canterbury for productions including Puccini's Tosca, Britten's The Beggar's Opera and Strauss' Die Fledermaus. He also works annually with The Old Stagers in their summer production at the Gulbenkian Theatre Canterbury. He has also worked extensively with amateur dramatic societies as musical director, rehearsal pianist or in the orchestra pit; recent works performed include Sweeney Todd, Noyes Fludde, Gypsy and Fame. In 2009 Stefan was awarded his MMus from Canterbury Christchurch University where he specialised in piano accompaniment with Kim Burwell; and he has recently been awarded an LRSM.